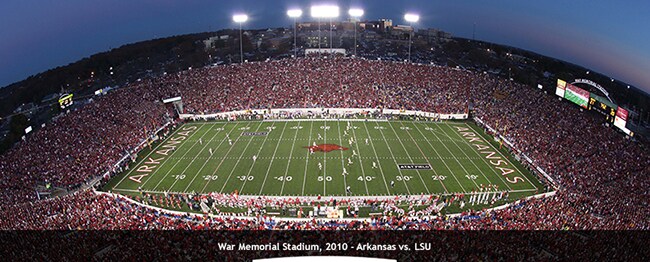 It's that time again for the old pigskin to fly.
Whether you went to the University of Arkansas at Fayetteville or not, if you've spent some time in Arkansas, you likely know how to call those hogs.
What's not to love about sharing a moment with two strangers at the tailgate or even nearly 70,000 people in the stadium?
You can always spot a Razorback fan in a crowd, thanks to that iconic call. If you need a refresher – here's our rundown.
Start with your hands low, alongside your knees in a slight bow. As you slowly raise your torso up, let out a "Woooooooooooooo" – not unlike a siren, followed by a "Pig Sooie!" Pro tip: throw in a fist pump at the end of sooie.
Repeat, twice more. Give the phrase some serious dynamic range for added flair. Start your wooo in a low, quiet tone and steadily raise both pitch and volume all the way to the top of the sooie.
Remember, these are just guidelines. Have fun with it as tyle is key.
Don't forget your gameday accessories. A hog snout, razorback hat, or themed shirt are a few of our favorites in our gear list. Get great ideas for your face painting work of art from our national app here: https://www.nissanusa.com/diehard-fan-app/college-100/.
Now that you've had the rundown, check out the video below and get ready to cheer the team to victory when they kick off the season against Texas A & M on Thursday, August 31 at War Memorial Stadium.
*Top photo courtesy of War Memorial Stadium.